Zur Buchung
Weitere Trips auswählen •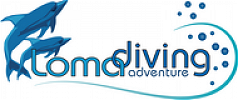 Loma Diving Adventure Khao Lak
Liveaboard and Scuba Diving in Thailand and Myanmar (Burma)
What about the water temperatures in Thailand and Myanmar?
The water temperatures are 27° - 30° Celsius (81° - 86° Fahrenheit) all year long.


Which kind of wetsuit should I bring?
A shorty with 3 mm should be enough, if you're freezing cold we recommend long wetsuits 3 - 5 mm.


What is the best holiday period for diving the Andaman Sea?
Season is from mid October to mid May every year and best holiday period is February to April.


Do you use DIN- or INT-valves?
Our 12l-aluminium-tanks are with INT-valves. If necessary you can rent INT-adaptors onboard MV Bavaria.


Do you provide vegetarian food onboard MV Bavaria?
Yes but please mention that with your booking as well as potential allergies.


The dives will be in which ratio on MV Bavaria?
Ratio will be max. 6:1 in principle. If available a private guide can be booked for 1,900 THB per day.


Can you assist in booking an accommodation?
There is a huge number of accommodations in Khao Lak. We recommend Loma Resort, Herbal Resort, Gerd & Noi Resort or Ocean Breeze Resort. Please kindly notice our website under
Our Hotel Offers
.
How much is Nitrox onboard MV Bavaria?
Nitrox is 200 THB per tank but we offer special Nitrox-flatrates (all dives with Nitrox) per trip as well.


Are the trips with MV Bavaria also suitable for snorkelers?
There's no problem on Thailand trips but it's not recommended on all Myanmar trips.


Does Loma Diving Adventure accept payments by credit card?
Yes, you can pay everything except the National Park Fees for Thailand and / or the Visa and Royalty Fees for Myanmar with VISA / MasterCard at our office.


Is rental equipment included in the prices?
No. It's only included in diving courses.


What are your criterions putting the diving groups together?
Diving experience and air consumption are the main criterions for that.


There are how many dives per day on MV Bavaria?
In general there are three dives per day and one night dive.


Which max. depth is allowed with Loma Diving Adventure?
Max. 30 m according to the legal provisions.


How long do your dives take?
All our dives are planned for max. one hour.


Which emergency equipment is provided on MV Bavaria?
First aid box, oxygen.


How is the power supply onboard MV Bavaria?
Power supply is 220 V AC, regular euro plug.


How can I do a booking?
You will get an email with a link to our Booking Form which you please complete and send.
We are also available to you by
email
.