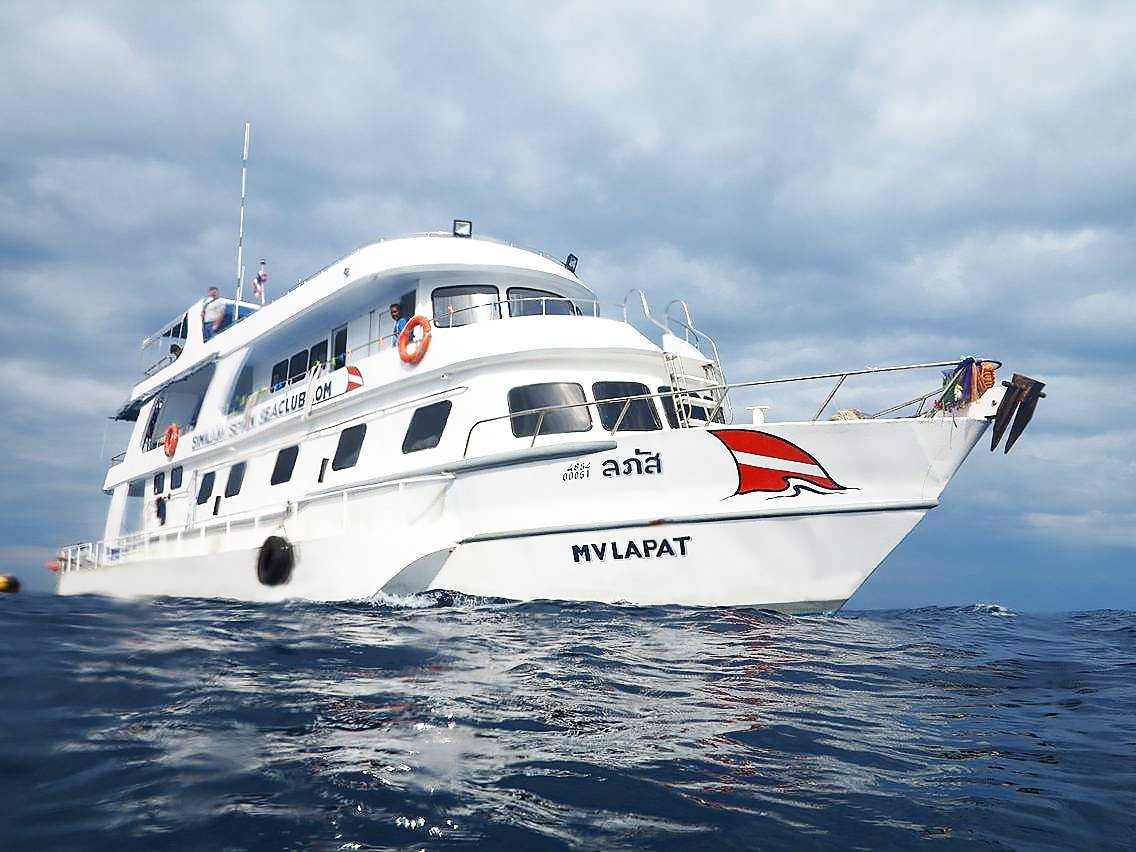 Our 2 day / 1 night liveaboard cruise lets you dive the best dive sites in Thailand like Similan Islands, Koh Bon, Koh Tachai and Richelieu Rock. During the cruise you can do 6 dives.
The MV Lapat is a 24 meter long and 5 meter wide steel boat that can accommodate a maximum of 16 guests.
With only 16 guests on the boat, we assure you plenty of space and small dive groups, which will leave very satisfied divers. This 2 day / 1 night liveaboard cruise is the perfect option for experienced and inexperienced divers.
2 x master cabins with ensuite bathrooms,
6 x double cabins
All cabins are air conditioned. There are four bathrooms on the boat as well as outdoor showers. The upper deck has LCD TV, DVD, VCD and MP3. There is a spacious sundeck and a shaded dining area where you can spend time between dives. All bathrooms are equipped with hot water showers and we provide eco-friendly bathroom products so we do not pollute the reefs around the islands. The boat is equipped with all necessary safety equipment, emergency oxygen and a comprehensive first aid kit as well as a life raft, life jackets and fire extinguishers.
The upper deck of the boat offers an indoor salon with air conditioning, sofas and entertainment system. At the same level you will find the dining area where all our delicious meals are served.
All meals are served in buffet style and consist of both local Thai and Western dishes.
Do not miss our freshly brewed coffee, which is popular with coffee lovers.
On the top level of the boat you will find our huge sundeck, which is partially covered and you will find comfortable mattresses to relax between dives. The MV Lapat has a very experienced boat crew and a captain with more than 30 years of experience in the Andaman Sea.
Our Instructors and Divemasters are both from Thailand and Europeans with many years of experience in training and guiding divers around the dive sites in the Andaman Sea.
Overnight Trip 2 days / 1 night
Twin Bunk cabin
Similan Islands 345 EUR + 900 THB National Park fee
Similan Islands u. Richelieu Rock 375 EUR + 1,400 THB National Park fees
Master cabin
Similan Islands 399 EUR + 900 THB National Park fee
Similan Islands u. Richelieu Rock 425 EUR + 1,400 THB National Park fees
National park fees are always payable in cash at THB
Day 1
07:00 Pick up hotel
08:15 Departure by speedboat Nawanoppa from Tablamu pier
09:30 Arrival on the Similan Islands, light breakfast on board and boat briefing
10:45 Dive 1
12:00 Lunch and free time to relax
13:45 Dive 2
15:00 Snacks and free time to relax
15:30 Beach Walk
18:00 Dive 3
20:00 Dinner and free time to relax
Day 2
06:30 Wake-up call and light breakfast
07:00 Dive 4
08:15 Breakfast
10:45 Dive 5
12:00 Lunch and free time to relax
13:45 Dive 6
15:00 Snacks and free time to relax
15:30 Departure from MV Lapat
16:50 Arrival at Tablamu Pier
17:00 Transfer back to your hotel
Overnight Trip 3 days / 2 nights
Twin Bunk cabin
Similan Islands 430 EUR + 1100 THB National Park fee
Similan Islands and Richelieu Rock 459 EUR + 1,600 THB National Park fees
Master cabin
Similan Islands 485 EUR + 1100 THB National Park fee
Similan Islands and Richelieu Rock 515 EUR + 1,600 THB National Park fees
National park fees are always payable in cash at THB
Day 1
07:00 Pick up from the hotel
08:15 Departure by speedboat Nawanoppa from Tablamu pier
09:30 Arrival on the Similans, light breakfast aboard the MV Lapat and boat meeting
10:45 Dive 1
12:00 Lunch and free time to relax
13:45 Dive 2
15:00 Snacks and free time to relax
18:00 Dive 3
20:00 Dinner and free time to relax
Day 2
06:30 Wake-up call and light breakfast
07:00 Dive 4
08:15 Breakfast
10:45 Dive 5
12:00 Lunch and free time to relax
13:45 Dive 6
15:00 Snacks and free time to relax
18:00 Dive 7
20:00 Dinner and free time to relax
Day 3
06:30 Wake-up call and light breakfast
07:00 Dive 8
08:15 Breakfast
10:45 Dive 9
12:00 Lunch and free time to relax
13:45 Dive 10
15:00 Snacks and free time to relax
15:30 Departure from MV Lapat
16:50 Arrive at Tablamu Pier
17:00 Transfer back to your hotel